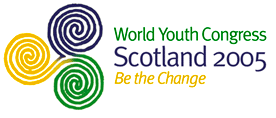 This was the most lavish and well-funded Congress – organised by the Scottish Executive with Peace Child International somewhat pushed to the sidelines. But the programme followed our model – and the action projects all over Scotland and its Highlands and Islands were truly spectacular. The energy and glamour of this Congress is clear from this brief introduction.
There were some truly great speakers – and speeches from Kofi Annan and Prince Charles + the 1st Minister for Scotland raised the standard of the event. It was voted the second best national event in Scotland of 2005.
The Congress produced a powerful Policy Statement from the delegates and also a handbook on how to deliver youth-led development entitled: Nothing for us Without us. There were also some wonderful professional photographs – and some great Congress Newsletters.
It also featured an exceptional talent show, a ceilidh of Scottish Dancing – and some wonderful plenary events in the Stirling University campus gymnasium.  The closing ceremony was held in the Scottish Parliament building in Holyrood.