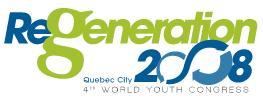 This Congress was extremely well organised at the University of Laval. It was designed to provide a Youth Event for the 400th birthday of Quebec City. It was funded through our partner, Taking IT Global by ACDI / CIDA – the Canadian Government's International Development Agency – and the process was complicated by the fact that we never had two meetings with the same CIDA officer. With the result that it was never really clear why CIDA were funding it – or what they wanted to get out of it. Massive personal support for the Congress came from the Governor General, Michaëlle Jean– who spoke at the Opening Ceremony in English, French and Spanish.
The Moroccan government had instituted a Congress Champion of Youth award – which, in Canada, was awarded to 5 x individuals:
Ismail Serageldin – Pioneer of the Youth Employment Summit
Bill Reese – CEO of the International Youth Foundation
Michaëlle Jean – Governor General of Canada, and Ambassador for Youth
Pierre Mairesse – Director of the European Union's Youth Division
Kandeh Yumkella – Director General of UNIDO
The Congress also published a Celebration of Youth-led Development – detailing some of the major achievements of the field we launched at our First Congress and outlining a number of good practice / example projects from around the world.
It was, perhaps, the most trouble-free Congress – again, with a great Talent Show, interesting Action Projects around the Quebec Province – and excellent workshops and an exhibition in the central atrium of the Student Building on the Laval Campus.  The Canadian organiser, Christian Robitaille, was tireless in his management of details and a wonderful friend and supporter of the Congress principles.
The Congress featured the 1st Performance of the Peace Child musical, renamed "Kids on Strike" by the performance troupe led by Rick Staropoli from Rochester, New York.  The story the young people of Rochester created – using social media to pull the children of the world out on strike to get governments to secure their future – has become the staple of all subsequent Peace Child shows. It recognises the futility of hoping that traditional UN and government-led approaches will ever make the changes needed in the time available. Though a good show, well-acted, written and directed, it did not become a major feature of this congress in the way that Peace Child – Alpha Omega did in Istanbul.